Grand Cru Muenchberg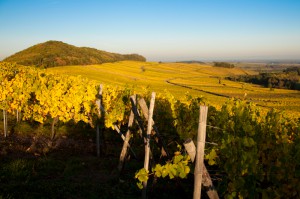 Sheltered from rain and westerly winds by the Ungersberg, a 901-metre-high (2956 foot) hill of Vosges sandstone, the Muenchberg follows the curves of a croissant to better welcome and capture the sun. Located on both sides of a south-facing valley, it benefits on its 17.70ha of a unique microclimate.
The soil and subsoil are formed of 250 million-year-old sediments dating back to the Permian period. They are puddingstones, conglomerates and breccias with often modified elements: volcano-detritic deposits, sometimes rich in tuffs and volcanic ashes. These stony and sandy grounds provide poor soil, but with excellent drainage and quick warming.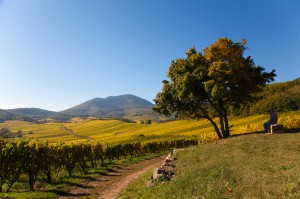 Riesling is the grape of choice for Muenchberg.
As early as the 12th century, the Cistercian monks of the nearby Baumgarten Abbey cultivated vines on the Muenchberg.
Hence its name, meaning "mountain of the monks" in Alsatian. A noble grape variety with late maturity such as Riesling reaches a rare fullness in this terroir with a privileged climate. As fertility is low, the vine produces few grapes : concentrating its qualities.