Nothalten, wine village of Alsace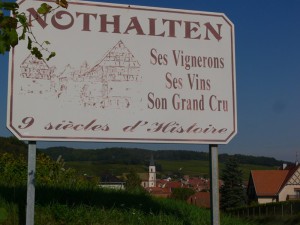 On the Alsace Wine Road, between Barr and Dambach-la-Ville, at the foot of the Ungersberg (alt. 901m, or 2956 ft), Nothalten is a wine village whose origins can be traced back to the 11th century. A document from 1099 mentions two free imperial villages: Nothalten and Zell. Three fountains dated 1543, 1571 and 1870 border the Wine Road as well as halftimbered houses from the 17th and 18th centuries. In the cellar of the Ruhlmann Foundation, a former farmhouse passed on to the municipality in 1933, stand some Romanesque columns from the Baumgarten monastery. The Ruhlmann Foundation has been transformed into a sociocultural complex.
In 1262 the name of the village is "Nothalten" (composed of the words NOT: dangerous, difficult and HALDEN: moraine glacial) hence the Muenchberg amphitheater.